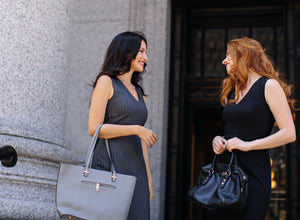 The Tigist Story
Determined to Change the Landscape
Quality
Tigist Petites is the only designer ready-to-wear collection that is especially made for petite women. Key fabrics are sourced from Italian mills and the clothes are all made in one of the finest factories in New York City.
Details
Every aspect of each dress, from the silky soft lining to the surprising patterned pops in the skirt slits, is designed with intention. You'll be newly delighted by each piece every time you wear it.
Fit
The cut and contour of each dress accommodates your figure in a way that most structured dresses on the market do not. Armed with the confidence a comfortable fit like this gives you, you'll be ready for anything the day brings.
"
The first luxury line just for petite women is finally here.

"
Founder Story
About Tigist
My name is Tigist Ketema and I am the Founder and CEO of  Tigist Petites. I conceived the idea for the brand based on my own experiences of routinely being disappointed with clothing options on the market for petite women with curves. Standing at 5'1" and with an hourglass figure, the frustration was especially poignant when it came to finding high quality work clothes - the choice was either to look like a little girl dressed up in her mom's boxy, oversized suit or to find a way to fashion (force) the few well-fitting casual pieces I owned into professional attire. Needless to say it was all very demoralizing!
After coming across countless other shapely women under 5'4" who also felt ignored by high fashion, I set out to create a luxe line of petite dresses that would uniquely serve professional women in this category. I spent over two years in R&D to come up with elegantly crafted pieces that meet the sizing, style and quality standards of this sophisticated audience. The results of this labor of love are Aiden, Sara and Gene, 3 distinct cuts of expertly tailored dresses that make up the Tigist Petites signature collection. 
My unrelenting promise through the Tigist brand is to make petite women feel like they are a priority in the fashion industry. I invite you to explore the collection and find your perfect fit.